How Do Dermal Fillers Work?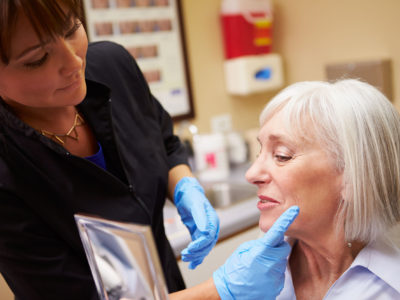 As the effects of aging become more prominent in the form of lines and wrinkles, many people are turning towards non-surgical treatments to bring back their youthful appearance. Dermal fillers are a popular option. With age, your skin slows down its production of collagen and elastin, which are proteins that aid in skin elasticity and plumpness. Dermal fillers replenish the skin with natural ingredients to restore a youthful look.
What's The Difference Between Dermal Fillers And Botox?
Dermal fillers add volume to facial areas, while neuromodulators, such as Botox, block the action of your nerves and muscles. With Botox, an expert technician targets specific muscles in your face that cause wrinkles, preventing them from forming. Dermal fillers, on the other hand, only work to soften current wrinkles, not prevent future lines.
Are Dermal Fillers Suitable For Wrinkles Or Sagging Skin?
Yes – both! Dermal fillers are ideal for softening out wrinkles and lifting sagging skin. Dermal fillers are injected under the skin and plump it up. They are idea for fine lines and wrinkles, as well as sagging cheeks or thin lips. Dermal fillers are popular options because they are an outpatient procedure and are less expensive than a face lift. Results last anywhere from six months to two years, depending on the type of filler chosen.
Can You Use Dermal Fillers For Acne Scars?
Many patients have seen great results from using dermal fillers to treat stubborn acne scars. As soon as the technician injects the filler into the skin, positive results can be seen right away as the scars are filled and slowly disappear.
Where Can Dermal Fillers Be Used?
Dermal fillers are a great alternative to cosmetic surgery to achieve facial contouring, especially around the eyes, lips and cheeks.
Dermal fillers can help patients achieve a youthful look by reducing or eliminating bags, dark circles, and sunken eyes. Bags under the eyes are treated by injecting dermal fillers to fill in the curve between your eyes and cheeks, creating a smooth and natural appearance. Likewise, dark circles and sunken eyes can be counteracted by dermal fillers injected just below the orbital rims of the eyes. The treatment drastically reduces the gaunt and hollow appearance that comes with aging. The procedure usually lasts less than 30 minutes and results can last up to a year.
Dermal fillers are a great alternative to plastic surgery for those looking to bring youthfulness back to their sagging or wrinkled cheeks. Injected right by the cheekbone, fillers help create a natural, plump cheek. A plumper cheeck is lifted high on the cheekbone, giving a natural contoured look to the face.
Are There Any Side Effects?
Dermal fillers will last from six months to two years, and some patients may experience mild side effects, such as swelling, redness, and bruising.
How Much Do Dermal Fillers Cost?
Since dermal fillers are a cosmetic procedure, they are often not covered by insurance. The cost depends on a variety of factors, including the type of filler used, the duration of the procedure, and the expertise of the provider. That being said, treatment can cost anywhere between $500 and $1300 per 1mL syringe.
Can I Get Dermal Fillers at Dansville Dental?
Yes! Dr. Kathleen Hale is a certified dermal filler technician and can help you achieve a more youthful look through a non-surgical procedure. Contact us today to set up a consultation and see how dermal fillers can help you get the look you've always wanted.