How to Save Money on Dentistry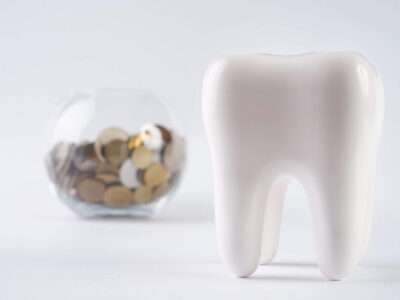 The cost of everything is going up! Food, gasoline, utilities, even Amazon Prime. So, how can you save money on your dental care? We have three things for you to consider.
During the pandemic, when the dental office closed to elective care and we were all in lock down, and then after lock-down when people were cautious about venturing out into public, we saw many patients fall behind on their regular check-ups. We now have seen a significant increase in patients suffering from dental emergencies. Things that could have, should have, been treated earlier have evolved into a crisis for the patient. This unfortunate situation is almost completely avoidable. So, suggestion number one for saving money on dental care:
Prevention Pays
Route check-ups/exams/x-rays are intended to find problems when they are small and quick and easy to address. It is much easier and lower cost to fix a small problem than it is to wait until it becomes a big deal. The difference in cost between a small simple solution and addressing a dental emergency or larger problem will pay for many routine exams. Routine preventative care like fluoride treatments and sealants also offer tremendous cost savings over time. The cost of one filling will pay for years and years of fluoride treatments.
Dental emergencies can be very painful, inconvenient, and expensive. Regular check-ups are inexpensive insurance against a serious expensive issue later. Detecting oral cancer early significantly increases survival rates. Keep those every-six-months dental visits going.
Membership Plan
For our patients who do not have dental insurance, we have created a membership plan. The idea is that for a small set monthly fee, all your routine hygiene visits (cleanings, check-ups, x-rays, etc.) are covered in full at a discount fee, thus saving you money. And members also receive an additional discount other dental services like fillings, root canals, crowns, and extractions. The saving can be significant, and the auto monthly billing makes it hassle free.
Xylitol
Xylitol is a secret weapon against cavities that we wish was not so secret!
Xylitol is a natural sweetener which does not cause cavities and can be used in place of sugar. In fact, it can prevent cavities. Add it to your coffee or tea, or use it for baking in place of sugar. It is available in chewing gum, mouth wash, breath mints. The great thing about xylitol is that it can actually reduce dental cavity rates. Xylitol reduces the bacteria which cause tooth decay. Use enough regularly and you can eliminate dental decay.
If you are getting cavities, and you like your sweets, look into xylitol. Xylitol can be purchased from Amazon, Wegmans, and other retailers. There are some things you will need to know (such as that Xylitol is toxic for dogs, that too much can upset your gut, and that you need to use enough for it to be effective), so spend some time gathering the facts, or speak to your dentist or hygienist, and give it a try. Xylitol.org is a good on-line reference.
As always, please feel free to send me your questions using our contact form.
Sincerely,
Dr. Ken Hale