What to Anticipate After Your Dental Implant Surgery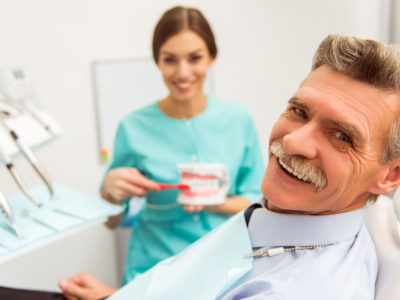 Congratulations on taking a big step in your oral hygiene: getting a dental implant. Dental implants are one of the best ways to take care of your jaw and smile after a natural tooth is removed. Now that you've gone through the implant surgery, you may have a few questions about what comes next. The good news is that very few patients experience any pain, swelling, bleeding, or discomfort of the surgery site. It's typically a very easy and pain-free recovery period.
General Post-Implant Surgery Care
Refrain from wearing your complete or partial dentures until your dentist gives you explicit permission to do so. If you had a temporary tooth placed on the implant, take care to not bite on it or put pressure on it.
Sometimes, the cover screw or abutment top may fall off your implant. Not to worry if this happens – it won't affect the stability or healing of your new implant. However, it is important to call your dentist as soon as you can to get a replacement.
Be consistent with any follow up appointments set by your dentist. It's imperative that a dentist keeps a close eye on the surgery site to prevent against any potential issues.
Temporary Tooth
Your dentist will likely give you a temporary tooth to place over the implant site while the bone heals. This temporary tooth can be used until the restoration phase, where a permanent tooth is placed on the abutment.
Will I Have Pain or Discomfort from the Dental Implant Surgery?
While pain following the dental implant surgery may occur, it is very rare in our patients.
If you do you begin to experience any pain, we recommend taking an anti-inflammatory medication, such as ibuprofen, every 4-6 hours as soon as the pain sets on. If you are unable to take an anti-inflammatory, Tylenol or acetaminophen will also work. However, many of our patients have reported not needing to take over the counter medication at all.
Will There Be Any Bleeding?
Most patients will not have any bleeding or oozing following their dental implant surgery.
If you do experience minor bleeding or oozing, rinse your mouth with cool water and gently bite on a gauze pad for 30 minutes at a time until the bleeding subsides.
How Long Does the Surgical Site Take to Heal?
Healing starts by allowing the tissue to rest. Avoid heavy chewing directly on top of the surgical site for at least 24 hours after the surgery. Avoid smoking, as it slows down the healing processes and can contribute to infection and discomfort at the surgery site.
At your one week checkup, your dentist will remove your stitches. At Dansville Dental, we use dissolving stitches, so there is no need for worry if your stitches start to dissolve before your one week postoperative visit.
Your soft tissue and gums will heal in a very short amount of time, but your jawbone will take a few months to fully integrate with the implant.
Will There Be Any Swelling After Surgery?
Generally, no. However, if any swelling occurs, it can be reduced with an anti-inflammatory or by gently applying a cold compress to your face in the area of the swelling.
Can I Be Physically Active After Surgery?
As long as the patient feels comfortable, they can resume normal physical activity after their surgery.
What Kind of Foods Can I Eat After Surgery?
During the post-surgery period, fluid intake is extremely important. Patients can start eating soft food and other liquids as tolerated. Post-surgery diet is entirely up to the patient, but we usually see patients stick to soft and cool foods that require little chewing in the first few days after surgery.
Oral Hygiene
Use warm salt water rinses (¼ teaspoon salt with ½ cup water) 3 times daily following your dental implant surgery. Brush your teeth on the first postoperative day, but be careful to avoid the surgery site.
Need More Info?
Take a look at our Implant and Sedation webpage for more information on implants, or sign up to attend our next implant seminar.
Meet With One Of Our Implant Professionals
Join thousands of others who have regained their smile and their confidence. Fill out the form to schedule a consultation with one of our dentists.