How to Eliminate the Fear of Your Regular Dental Cleaning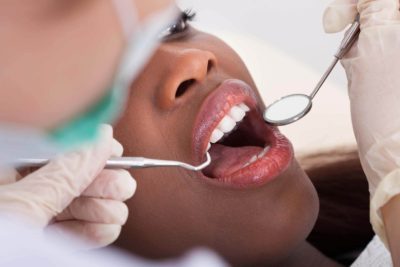 Most dental offices recommend a dental cleaning twice a year, but we know that for those with dental-related fears, this can be daunting. That doesn't have to be the case! With a little time spent beforehand to face the fears and concerns, dental procedures are often rather uneventful. Take a look at a few tips that can help you or your child finish the next dental appointment emotionally unscathed.
Get to Know Your Professional Hygienist
First, get to know your hygienist so you can be completely comfortable around him/her. Children especially benefit from this step. You can set up a consultation prior to the first dental cleaning to meet the staff. Once you have a personal connection with the others who will be present, both you or your child will be put at ease and feel less isolated.
If it's your first visit to this dental office, take a quick tour to get a feel for the office environment. Nowadays, dental spaces are made to feel more soothing with well-thought-out color palettes, and Dansville Dental Professionals is known for its aesthetic design and exquisite structure. Once you have an image in your head of what the setting looks like, you can eliminate exaggerated, overly-sterile depictions that may perpetuate fear.
Ask Questions About Your Dental Cleaning
Ask questions about the procedure you or your child is getting done. If there are multiple parts, find out exactly what happens and when to eliminate guesswork. The more you understand about the procedure, why it's necessary, and what to expect, the more relaxed you'll be.
When younger patients ask us questions, we structure answers in a way they can easily understand. We want to make sure our descriptions are age appropriate, avoiding complex answers that could result in more distress.
Make Your Fears About Dental Cleanings Known
Write down all fears beforehand and then communicate these with the hygienist prior to the dental cleaning. Due to heightened emotions/stress during a visit, it can be difficult to articulate what exactly makes you or your child fearful.
Have you or your child had a negative experience in the past? Explain the situation so the hygienist can work to alleviate fears of a similar experience occurring again. Are you claustrophobic? We can use alternative methods to help our patients feel less enclosed and more in control during their time in the chair.
You can ask the hygienist to share what's happening to help you understand the procedure as he/she goes along. It might be possible for dental work to be done in small increments to give you time to acclimate.
One Last Tip
Plan ahead for your trip by dressing comfortably; bring along your favorite music and have a trusted family member or friend in tow.
Take control of the situation and you and your loved ones can have a positive teeth cleaning experience. For questions or to set an appointment, contact Dansville Dental Professionals, LLP.