Dr. Frost Achieves Highest Honor for Dental Implant Training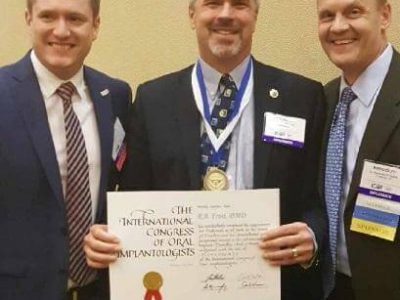 Dr. RB Frost, of Dansville Dental Professionals, recently earned Diplomate Status within the International Congress of Oral Implantologists (ICOI) during a national conference in New Orleans in February.
The awarding of Diplomate status is the highest honor a professional society such as the ICOI can bestow on a dental professional involved in oral implantology. The ICOI conducts a Diplomate program in which active members are encouraged to achieve Diplomate status through their efforts in education, research and actual clinical experience. Advance Credential Committee interviews and testing are required.
Dr. Frost joined Dansville Dental in 2009 and has been placing implants for more than 16 years. Both Dr. Frost and Dr. Ken Hale have continually pursued additional training and education on implantology and the latest advances in the field. Implants are now the standard of care for replacing missing teeth or securing dental prosthetics such as dentures. But not all implants are the same and they are committed to providing education and outreach on this subject as well. They host monthly seminars in the area to provide education and information for those interested in learning more. The next seminar will be Thursday, April 6th at 6 pm at the Dansville Dental offices, 25 Red Jacket Street in Dansville.