Why Bigger is Sometimes Better – Part Two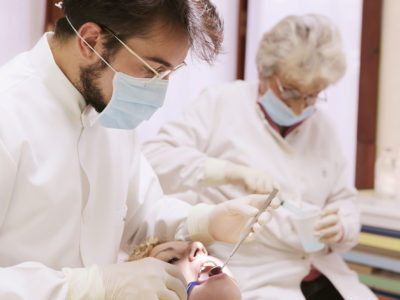 In part one of this three-part series, I discussed the key consumer advantages of value and convenience and emergency assistance of a large private group practice. In part II, I will discuss the quality of care and service of a group versus a small practice, and a private group versus a chain or franchise group practice. Let's start with the quality of care and service.
Rapid Evolution of Information
We are living in an information and technology explosion, and dentistry has not been excluded from this evolution. Many of the practices being taught in dental school did not exist in private practice 20 years ago. This rapid evolution and exponential expansion of information makes it nearly impossible for the solo dentist to keep up. One dentist can't know everything there is to know in every field of dentistry that impacts their patients. So, for the solo dentist, this means either their patients don't receive the benefits of the information evolution, or the dentist refers the patients to a specialist in each area of dentistry the patient needs.
Multiple Specialists in One Location
The group practice solves this problem for the patients and the dentists. In a group practice, dentists can limit their scope of practice, and focus their continuing education on selected areas. This gives the patients the advantage of having several specially trained dentists in a single location without the added expense and inconvenience of traveling to a specialist.
I am not saying specialists don't play an important role; for unusual or very complex challenges, a specialist is a good option for the patient. However, for routine care that falls within a specialty field, a general dentist with advanced training and education and focus of practice can provide the patient with excellent care in the home location at general dentist fees. For example, in a group practice, a dentist may enjoy performing oral surgery. That dentist focuses his education on surgery, obtains advanced training in surgery, and gains a great deal of experience in surgery because the other dentists in the group refer their patients to him for surgery while he refers other procedures to them. The patient gains the huge advantage of a team of dentists with varying areas of expertise and experience working together to provide a higher level of care in a single location and at a reasonable cost.
Private Group vs. Franchise Dental Office
A group practice sounds like a good idea for everyone, dentists included. However, there is a significant difference between the privately owned and operated group practice I'm describing here, and the dental chain or franchise type of group practice. This topic of chain vs private is worthy of a complete article, but I'll simply outline a couple of the key differences which relate to the quality of care and range of services discussed above.
By "chain" I am referring to the corporate model of practice. In this model, a centralized professional management company runs a collection of locations. There are often multiple owner dentists, and well as an army of employee dentists. Management decisions, policies and procedures, and patient care are supervised by the central office, not by the dentists working in the office.
With multiple dentists, you could call this a group practice, but it is very different than the practice I'm describing above. In the franchise practice, there are typically only one or two dentists working in any single location, which essentially makes it a solo practice. Typically, the dentists are new graduates with very little experience or advanced training, and they are employee dentists. This is a very different situation than experienced dentists working as a team in a practice they own and operate together.
I hope you found this interesting and informative. In part three I will discuss why the group practice model I'm describing makes dentists happier than either the solo or the corporate practice. You want your dentist happy, right?