Hybrid Dental Implants with TeethXpress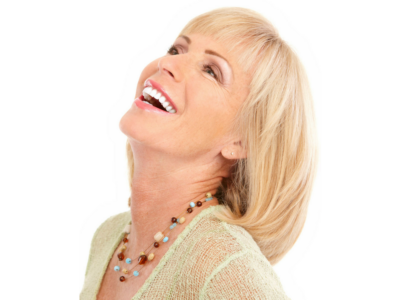 Hybrid dental implants are a new approach to dental implant surgery, making a new set of teeth possible by using only a few implants. For patients with little to no teeth, a hybrid solution is the most effective and comfortable way to give patients a full set of teeth. TeethXpress, one of the more popular forms of hybrid dental implants, surgically affixes dentures to the jawbone, providing a natural and comfortable long-term solution.
What are hybrid dental implants?
Dental implants are metal posts that are surgically implanted into the jawbone.
Once mounted, dentists can easily add natural-looking replacement teeth onto them. Hybrid dental implants allow for multiple teeth to be placed on one metal post, and some options, such as TeethXpress, can affix an entire set of replacement teeth into just a few dental implants.
What's the difference between a hybrid dental implant and dentures?
Dentures may be fast and inexpensive, but are very uncomfortable and do not function like natural teeth. Since they sit on top of the gums, dentures have the tendency to slip and slide all around the mouth when eating and chewing. They also need to be re-fit and replaced every 5-8 years. Dental implants, on the other hand, are surgically positioned into your jawbone and allow dentists to mount replacement teeth onto them. Because they are fused to the jawbone, they provide a very stable platform for replacement teeth and a natural feel. They do not slip or slide around in the mouth and feel like natural teeth. TeethXpress combines the natural look of the denture with the stability of implants, resulting in a denture that is surgically implanted into the jaw using 4-6 abutment posts.
What are the benefits of a dental implant compared to traditional dentures?
When you lose teeth, you lose bone. The lack of stimulation causes your jawbone to shrink and deteriorate over time, which can change the shape of your face and cause premature aging. Dental implants, like natural teeth, stimulate the jaw and prevent bone loss.
How long does TeethXpress take to be placed?
TeethXpress can typically be placed in one day under local anesthesia. Any discomfort experienced from the procedure is usually minor and temporary. A typical procedure will last 3-4 hours, but consult your dentist to get a more accurate time frame for your visit.
Why TeethXpress over a traditional dental implant?
TeethXpress is a great option for patients looking for a minimally invasive dental implant. Patients can enter the dentist's office with no teeth and leave with a full set. They can often utilize their existing denture, and no longer have to worry about costly adhesives or the risk of a denture slipping and sliding in their mouth. It's a long-term solution that can be completed in a single day. If cared for properly, implants can last for 40 or more years. When used with BioHorizons dental implants, TeethXpress has a 99.2% success rate.
Dental implants at Dansville Dental
Unlike other dental offices that will only install the replacement teeth, Dansville Dental can see your implant procedure through from start to finish. Our dentists have been placing implants for over 20 years. Both Dr. Hale and Dr. Frost have completed fellowship training from the Misch International Implant Institute and are members of the Congress of Oral Implantologists and have placed hundreds of dental implants.
Want to get started?
Contact our office to learn how to get your smile back with a hybrid dental implant solution.
Meet With One Of Our Implant Professionals
Join thousands of others who have regained their smile and their confidence. Fill out the form to schedule a consultation with one of our dentists.