Are Dental Implants Worth the Cost?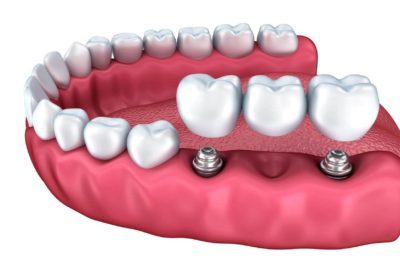 Our dentists have extensive training and advanced certification in providing the full range of dental implant services, including bone grafting and sedation. We use digital 3D scan technology and the highest quality implant system available, all conveniently located within our office.
When patients consider the option of dental implants to address one or more missing or loose teeth, they are sometimes concerned about the price, wondering if dental implants are expensive. Some patients are surprised to learn that the cost of a traditional bridge versus a dental implant is actually quite comparable.
The cost of dental implants partly depends on the number of teeth that need replacement. The location of the missing teeth is important too. If you need multiple teeth replaced in multiple locations, the cost is higher. If you need multiple teeth replaced in a single location, you don't necessarily have to get a dental implant for each missing tooth; you can have what's called a dental implant bridge. (see image)
We recommend dental implants to our patients because they are a long-term solution. Other treatment options, such as bridges, may need replacement every five to 10 years. For traditional bridges, many insurance companies include what's called a replacement clause, meaning they will help pay for a bridge replacement – in other words, insurance companies acknowledge that alternative treatment options are not a long-lasting solution.
Invest in Your Health
Here at Dansville Dental Professionals, we take care of our patient's dental health in totality. Dental implants are an investment into your own health. With our extensive experience in dental implant surgery, it's rare for a dental implant to fail. We guarantee surgical success and our implants carry a lifetime guarantee against fracture. Dental implants require no additional maintenance other than regular brushing, flossing, and occasional fluoride rinse.
How to Pay for Dental Implants
Our total dental implant services are lower priced than many local providers. If you need help paying for your dental implant(s), we offer multiple payment options, including CareCredit, a credit card specifically for healthcare. We accept many insurances and financing is available as well. We offer cash discounts when patients pay in full at time of service. We do what we can to make high-quality care affordable for our patients based on their individual needs.  
We are happy to answer any questions about dental implants! You can also join our free dental implant seminars that we host once a month. Review dental implant testimonials from some of our previous patients. Call 585.335.2201 if you'd like to learn more! 
Meet With One Of Our Implant Professionals
Join thousands of others who have regained their smile and their confidence. Fill out the form to schedule a consultation with one of our dentists.