How to Switch Dentists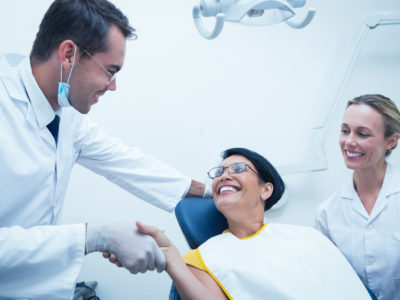 There's a lot of reasons people look for a new dentist: maybe they moved to a new location, need a special type of procedure, or are generally unhappy with their current dentist. No matter what your reason, switching dentists is an easy task.
In this article, we'll teach you the process for switching dentists in five easy steps.
Switching Dentists in Five Easy Steps
1.) Find a new dentist
Once you find a dentist you think you'll like, make sure they are accepting new patients.
2.) Notify your previous dentist
This step in the process is more of a courtesy than a necessity. You'll probably need your previous dentist to supply your new dentist with your dental records, but letting them know you're leaving their practice will help them out. And remember, you don't owe them an explanation as to why you're leaving, but it is a polite gesture and you might be able to help them improve.
3.) Transfer your dental records
You might have to sign a release form from your previous dentist or your new dentist to transfer your records, but you might also be able to authorize the transfer on the phone.
4.) Attend your first appointment
Expect lots of paperwork, lots of information, and new x-rays. Your new dentist should want to get the most accurate picture of your dental health so that they can create a personalized, accurate dental treatment plan, but this process won't be overwhelming since you know it's coming.
5.) Enjoy a healthier mouth
Your new dentist should be able to treat your dental health in a way that makes you feel comfortable and valued. Regardless of your reason for getting a new dentist, once you're with the right dentist, you'll enjoy the process of keeping your mouth healthy.
Our Tips for Choosing a New Dentist
Do Your Research
Find recommendations and reviews from friends, family, and the internet. Be sure you weigh all reviews and not just the extreme outliers.

Research the dentist's credentials and experience. Make sure you go to a specialized, credentialed dentist who has plenty of experience.
Consider These Questions so the Dentist Will Meet Your Needs
Is this a family dentist?

If you have little ones (or even teenage ones),

choosing a kid-friendly dentist

with flexible scheduling hours is very important.

Will this dentist be able to accommodate my disability?

If you have any disabilities, make sure the dentist has accommodations in place to treat you or is willing to make adjustments in order to accommodate you.

Does this dentist specialize in services I need?

It's easy to learn if a dentist offers the services you need through their website or front desk, but also

consider services you might need in the future

. It's more convenient and comfortable to have one expert in dental instead of a couple different practices.
Consider Dansville Dental Professionals
We are accepting new patients! If you are looking for a new dentist, Dansville Dental Professionals offers its patients comprehensive dental care to improve and maintain oral health. We are family-friendly and offer all nine areas of dental practice.
Better yet, our priority is making you feel comfortable at your new dentist, so we are ready to work with you to get you all switched over without any hassle or anxiety, no matter your reason for switching dentists.