Dansville Dental Professionals Welcomes New Hygienists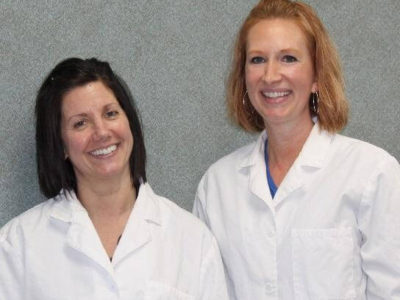 Dansville Dental Professionals (DDP) welcomes Registered Dental Hygienists Tammy Cornelius (left) and Nikki Kota. With nearly 25 years of experience between the two of them, they are very happy to be providing expanded access for patients!
Dental hygienists are important members of the dental team. In their role they not only provide education on good oral hygiene and teeth cleaning, but they are also integral to identifying patients at risk for oral cancer, periodontal disease and completing diagnostic x rays and screenings.
DDP has recently engaged the services of a consultant to provide education and support to the entire team for screening, diagnosing and treating periodontal disease. Periodontal disease is an inflammatory infection that causes gums to bleed and recede resulting in the loss of teeth if untreated. But, more recently, it has been linked to systemic health conditions such as heart disease and diabetes. Treating periodontal disease can often lead to resolution or better management of these systemic diseases and an improvement in overall health. The team meets regularly with the consultant and, with the addition of a periodontist, are able to assure that patients have access to this important treatment.
Both Tammy and Nikki are accepting new patients and appointments can be made by calling Dansville Dental at 585-335-2201.